We visited Jennifer's family a couple of times in 2002 -- once in April and once in July. We're still not sure why we always end up in Tucson, Arizona in summer. This time, the temperatures hit about 110 degrees.
Washing the car with Mimi.

On our way home in spring, we stopped by a deer/ostrich farm.

Sammy and his cousin, Nolan.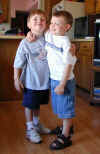 Mimi spoiled Amber. Here, she's holding a lollipop for Amber.

Play games.

This little critter was a big hit!